A review of the Silk'n Lipo targeted fat reduction device. In this post you will learn about how to lose stubborn fat and cellulite with Silk'n Lipo and, most importantly, does it really work?
Losing weight isn't always easy. Sometimes it's a tormented journey, generating feeling of frustration and defeat. It may happen that, even though you manage to lose a few kilos, you are still not satisfied with some parts in your body, where stubborn stored fat and cellulite are still present. 
And if for some reason (be it time, money or health issues) you can't go to the gym regularly, frustration grows and self-esteem goes down.
Localized fat is the main cause of imperfections like belly fat, love handles and culotte de cheval.
Luckily, the industry of fitness and weight loss provides several tools to battle and eliminate localized adiposity and cellulitis, that may help when diets and lifestyle change didn't prove to be effective.
A good example of these tools is the Silk'n Lipo device, that was come up with to help the weight loss process and whose effects are like the ones you get from a professional beauty treatment, except that it's carried out in the comfort of your own home.
Let's see what Silk'n Lipo is, how it works and, above all…does it really work on stubborn fat and cellulite?
What is Silk'n Lipo?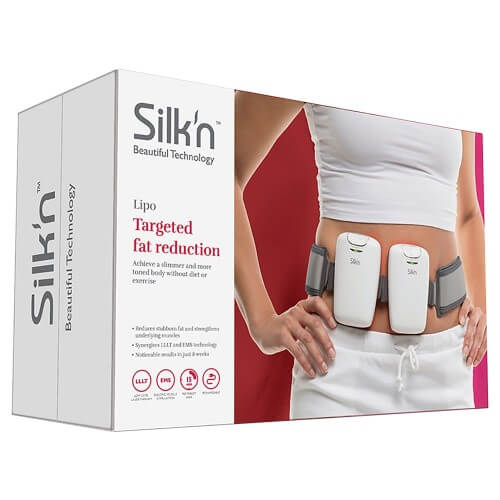 Silk'n Lipo is a groundbreaking device, with a double action:
it targets the subcutaneous adipose tissue and burns the stubborn fat;
it strengthens the muscles.
In order to get these results, Silk'n Lipo uses the advanced LLLT Laser technology – low level laser therapy – which is combined with electrical muscle stimulation (EMS).
Practically the LLLT technology first targets the stubborn fat cells whilst the EMS then helps with their removal and to also strengthen the muscles laying underneath.
With just a 15-minute session your skin will look smoother and tighter, and the imperfections (cellulite, love handles and belly fat) will start to smooth over and slowly disappear.  
Main features of Silk'n Lipo:
Fat targeting with clinically proven LLLT technology;
Muscle strengthening with EMS technology;
15-minute sessions for each part to treat;
Suitable for home use;
Safe, painless and non-invasive;
Rechargeable device;
Comfortable and user-friendly.
How does Silk'n Lipo work to remove stubborn fat and cellulite?
Watch the video:
Let's see how these two technologies work.
The Silk'n Lipo works on the stubborn fat in a number of common problem areas by using two complementary technologies and combining them to work in perfect synergy.
The LLLT technology first targets the stubborn fat cells whilst the EMS then helps with their removal and to also strengthen the muscles laying underneath. This can be done on a range of body parts including the abdomen (stomach), waistline, thighs, bum and upper arms.
The LLLT technology
The Low Level Laser Therapy (LLLT) is used for targeting fat cells and is a clinically proven and well-established technology. This therapy has proven to be effective on destroying stubborn fat cells present in several parts of the body.
It works by focusing on the fat cells stored just underneath the skin and uses a laser with a specifically calibrated frequency of light to painlessly and safely perforate the membranes of the fat cells, leading them to release their fatty contents and then shrink in size. Once the fatty acids have left the cell, the body eliminates them using its natural processes.
With LLLT being a clinically proven technology, it has been the focus of many clinical studies. These have shown that the optimum wavelength range is between 630 and 670 nm. The Silk'n Lipo uses a precise wavelength of exactly 658 nm so is right within the proven range, making it an ideal length for targeting fat cells safely and efficiently.
Here are a few studies you may want to refer to:
The EMS technology
In order to get the best out of the LLLT technology and accelerate its process, the Silk'n Lipo team combined it with the popular Electrical Muscle Stimulation (EMS).
This technology works with safe and mild electrical impulses that are transferred through electrodes placed on the skin. This stimulates muscle activity in the region which could help to strengthen the muscles as well as support tone and definition, and eliminate imperfections, such as cellulite. It also contributes to lymphatic activity which, in regards to its use alongside LLLT, is the body's natural process for getting rid of waste products such as the fatty acids that have left the cells.
Here are a few studies you may want to refer to:
What does Silk'n Lipo include?
2 x Silk'n treatment Units;
2 x Electrode Pads to wet with cold water and apply to the treatment units before use;
2 x Connectors – elements that connect the treatment units to the belt;
3 x Belts – S, M and L sizes to choose depending on the body part you want to treat;
Stand/Charging Cradle for the treatment units;
Adaptor;
User Manual (you can read and download it HERE);
Warranty Card (2 years).
On which body parts can Silk'n Lipo be used?
Silk'n Lipo may be used on different parts of the body:
abdomen;
thighs;
bum;
upper arms.
Watch the video:
How to use Silk'n Lipo?
Before using the device pay attention to these two important aspects:
ensure your Silk'n Lipo units are fully charged;
ensure the skin of the area you are going to treat is dry and clean.
Here are the further steps to follow:
Lightly wet the electrode pads and place them onto each unit.
With either one unit or by connecting them both together (if using on a larger area such as the stomach), attach to the correct sized belt.
Place the belt around the area you wish to use your Silk'n Lipo on and then, making sure the units are in good contact with the skin, secure the belt so it is comfortable and will not slip or move around.
Turn on the device by pressing the ON button so that the laser diodes glow red.
Adjust the EMS energy level using the + and – buttons to a setting that suits your body and your needs. If using EMS for the first time, it is advisable to start with the lowest level and work your way up gradually.                        
Use the Silk'n Lipo up to 3 times a week on each desired area for 15 minutes sessions.         
Important tip! Make sure to drink plenty of water before and after each session of treatment with Silk'n Lipo.                                         
Why should you choose Silk'n Lipo? The PROS:
It's a professional device come up with by a team of beauty experts.
It's a professional treatment designed for home use.
Synergistic treatment (LLLT and EMS) for guaranteed results.
Safe, comfortable and easy to use.
Valid alternative to surgery.
Non-invasive and painless.
It may be used on different parts of the body.
Suitable for both men and women.
It may be used during normal daily activities. It doesn't interfere with daily routine.
Automatic shut-off feature after 15-minute inactivity.
Each treatment session lasts only 15 minutes.
Two-year guarantee.
It may help you save time and money for the gym.
The CONS of Silk'n Lipo:
At first sight this device may seem expensive, though if we think about how much beauty treatments or cosmetic surgery cost, Silk'n Lipo may be an excellent investment.
This device is not fit to treat severe obesity issues and doesn't substitute a healthy lifestyle.  
Warnings – when you should avoid using Silk'n Lipo:
Don't use Silk'n Lipo on the chest, head or neck.
Don't use Silk'n Lipo to treat obesity.
Don't use Silk'n Lipo during workout.
Don't use Silk'n Lipo if you have a pacemaker.
Don't use Silk'n Lipo if you're nursing.
Don't use Silk'n Lipo if you are younger than 18.
Don't use Silk'n Lipo if you have skin issues.
Don't use on areas of the body with piercings or tattoos.
In a review I found in the web I read of a client whose herpes got worse after using Silk'n Lipo. 
Potential side effects of using Silk'n Lipo:
This device is usually well-tolerated. Nevertheless, you may experience these side effects:
These are usually temporary side effects, that will disappear the more you use Silk'n Lipo, but if skin rush persists or you realize you are allergic to the device or its accessories, stop the treatment immediately.
Silk'n Lipo – does it really work?
I experienced firsthand the beneficial results of EMS, thus the idea of a device using this technology combined with LLTT to eliminate stubborn fat and cellulite appeals to me, also given the positive clinical studies about these technologies.
Clearly you have to take appropriate precautions and you don't have to rely only on Silk'n Lipo as a lose weight fast solution, but you'd rather use this device in combination with a well-balanced diet and a healthy lifestyle. There aren't any easy, quick and magical solutions! 
Products like Silk'n Lipo may prove to be efficient where dieting and physical exercise failed.
Reading the various reviews on the Internet, I noticed that most of them are positive reviews and that most of the people who used this device reached their goals. It is worth mentioning though that you should use Silk'n Lipo on the same body part three times a week for at least 8 weeks in order to see the results. So, consistency is essential!
As with any other groundbreaking products, you may find lots of forged Silk'n Lipo devices which are often sold at a lower price. This is the reason why it is advisable to purchase only from websites authorized by the parent house.
If you think Silk'n Lipo could be the right solution for you, click on the button below to go to the official dealer website.
Thank you for reading and if you find this article useful, please share it with your friends and leave me a comment below.