The orange season is about to begin in Sicily and so I have chosen this super simple homemade gluten free orange cake recipe (without eggs and butter) to start the Quick & Easy Healthy Food Recipes series on this blog.
I just love this cake! Not only is it super easy to make, but it's also so soft and fragrant that I guarantee it will become one of your favourites too!
One of the main advantages of this cake is the incredible lightness, with the lack of eggs and butter. It's perfect for people trying to lose weight – a much healthier and less caloric alternative to the classical sweet breakfasts, cakes and desserts.
This orange cake is also free of gluten, which makes it much more digestible and perfectly suitable for a gluten-free diet as well.
To make this cake I used the naturally gluten free buckwheat flour and rice flour and added some potato starch to make it soft and fluffy. Believe me, the result was really amazing! This simple homemade orange cake turned out to be very soft and delicate.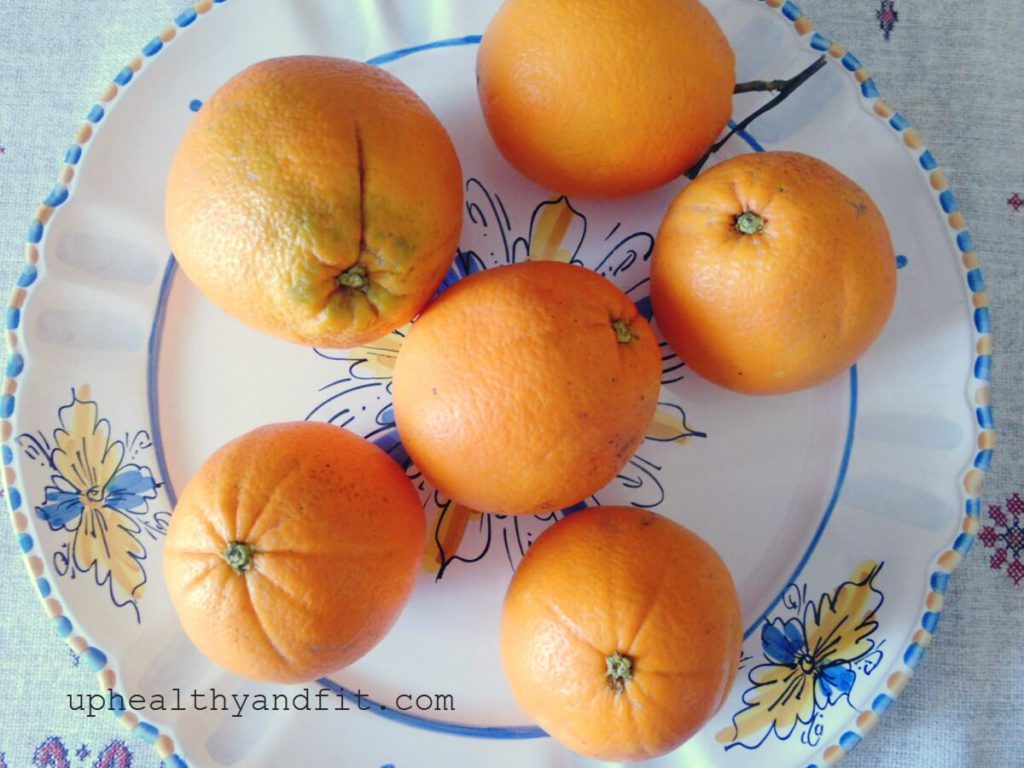 The main ingredient of the recipe are of course the oranges. We live in Sicily, so I used the incredibly fragrant organic Sicilian oranges (I used both peel and juice), and I enriched the recipe with a handful of dark chocolate drops.
To replace the butter, I used peanut oil, but sunflower oil is also a great alternative. As you can see, not only is this cake gluten-free, it is also lactose-free.
The ingredients are in grams, but you can use the imbedded calculator to convert them to ounces, if you need.
Recipe – simple homemade gluten free orange cake without butter and eggs
Ingredients: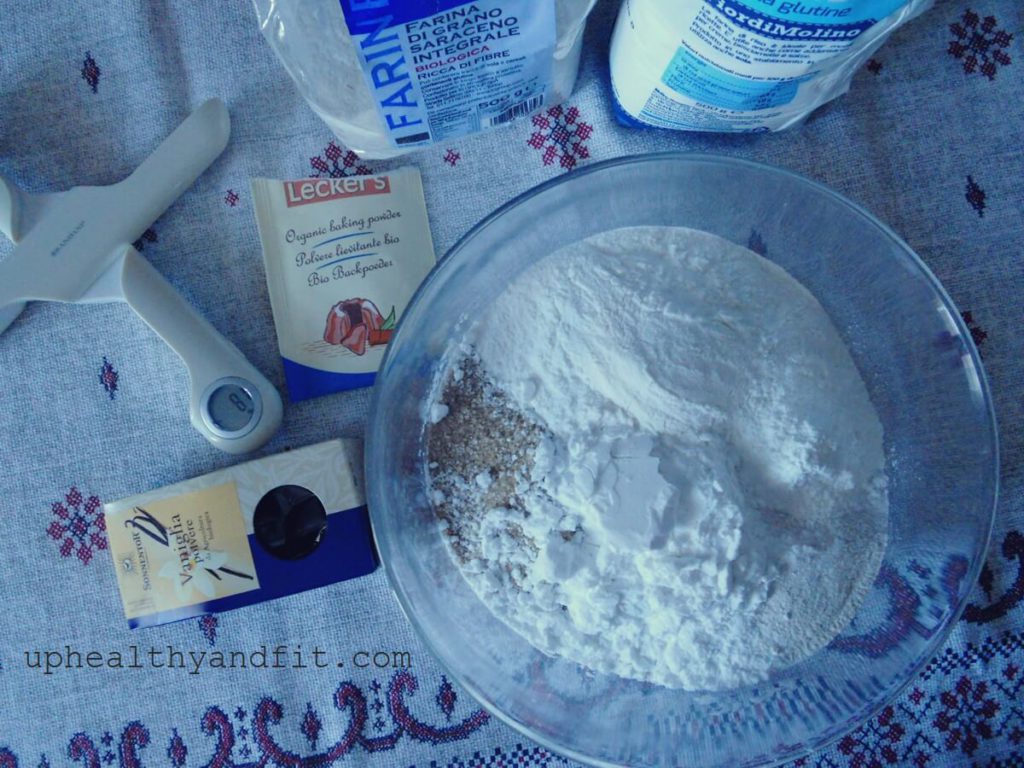 Rice flour – 200 g

Buckwheat flour – 100 g

Potato starch – 80 g

Cane sugar – 180 g

Tartar powder (cream of tartar ) – 21 g

Vanilla powder – ½ teaspoon

Dark chocolate drops – 20 g

A pinch of salt

Peanut (or sunflower) oil – 8 spoonfuls

Juice of 2 oranges (3 if they are small)

Peel of one orange

Water as much as necessary

Powdered cane sugar (to sprinkle over the top)
Instructions:
1 – In a bowl mix the dry ingredients: rice flour, buckwheat flour, cane sugar, tartar powder, potato starch and a pinch of salt.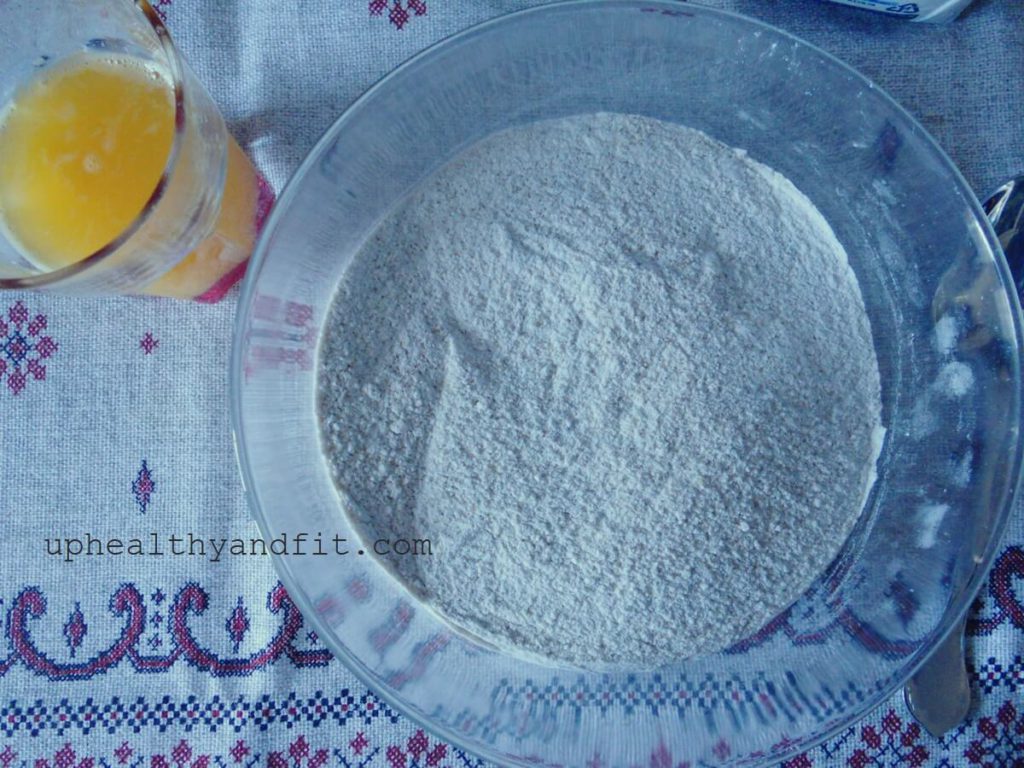 2 – Pour the juice of 2 oranges (3 if the oranges are small) in a measuring glass. Add the oil and water so as to get 300ml of liquid.
3 – Add the liquid to the dry mix and stir well so as to get a creamy and homogeneous mixture, that should have the consistency of a pancake batter. If you think the mixture is too dry, you may want to add some more water. Be careful not to make it too watery though. If it happens, add some more flour.
4 – Add the freshly grated orange peel and chocolate drops to the mixture.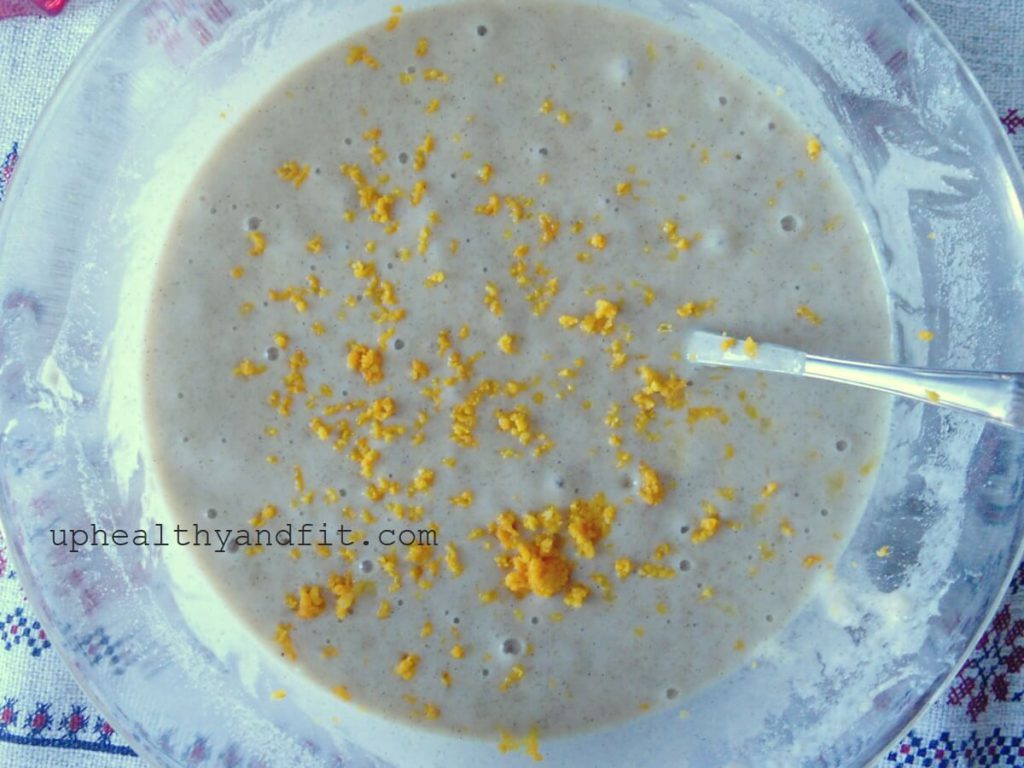 5 – Put the batter in a cake tin covered with baking paper and bake in a preheated oven (180°C or 350º F) for about 50-60 minutes.  The baking time depends on your oven and on the diameter of the cake tin you use.  Do the toothpick test before taking the cake out of the oven. If the toothpick comes out clean and the orange cake is golden on the outside, you may take it out of the oven and let it cool down before sprinkling powdered cane sugar all over it and serving with a cup of warm green tea.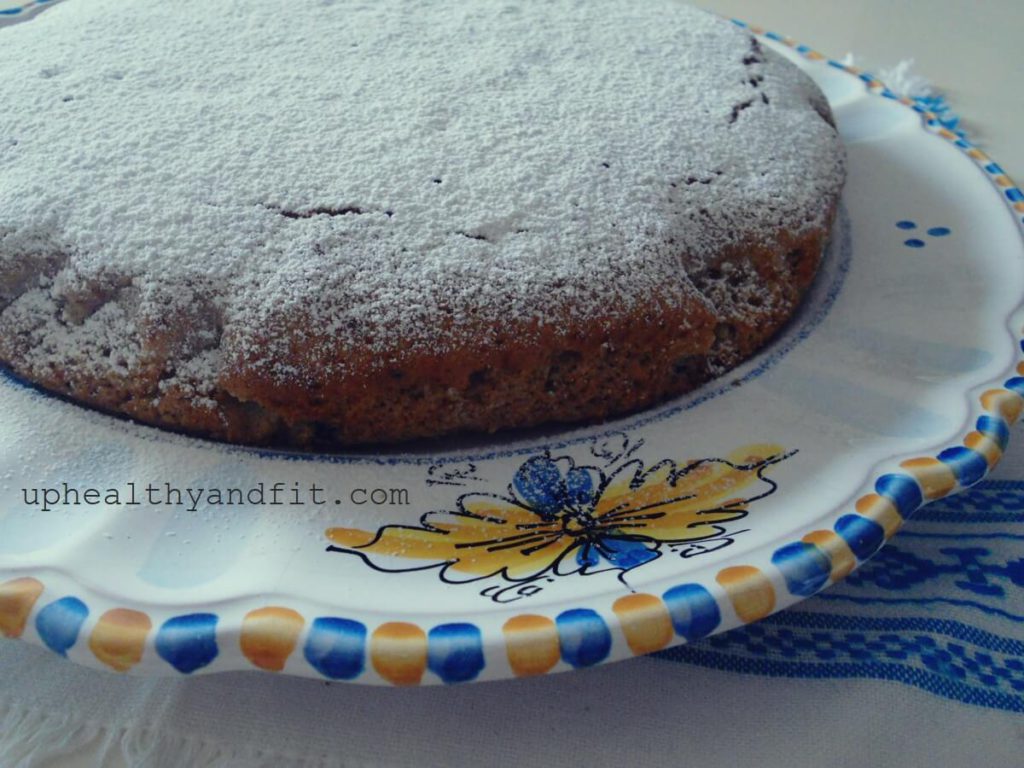 As you can see this simple recipe is super easy and quick to make. All you have to do is mix the dry ingredients with the liquid ones and the trick is done – you have a perfect homemade gluten free orange cake, that you can enjoy for breakfast or whenever you feel like it, because it's also dairy-free and low in calories, as it's made without butter and without eggs.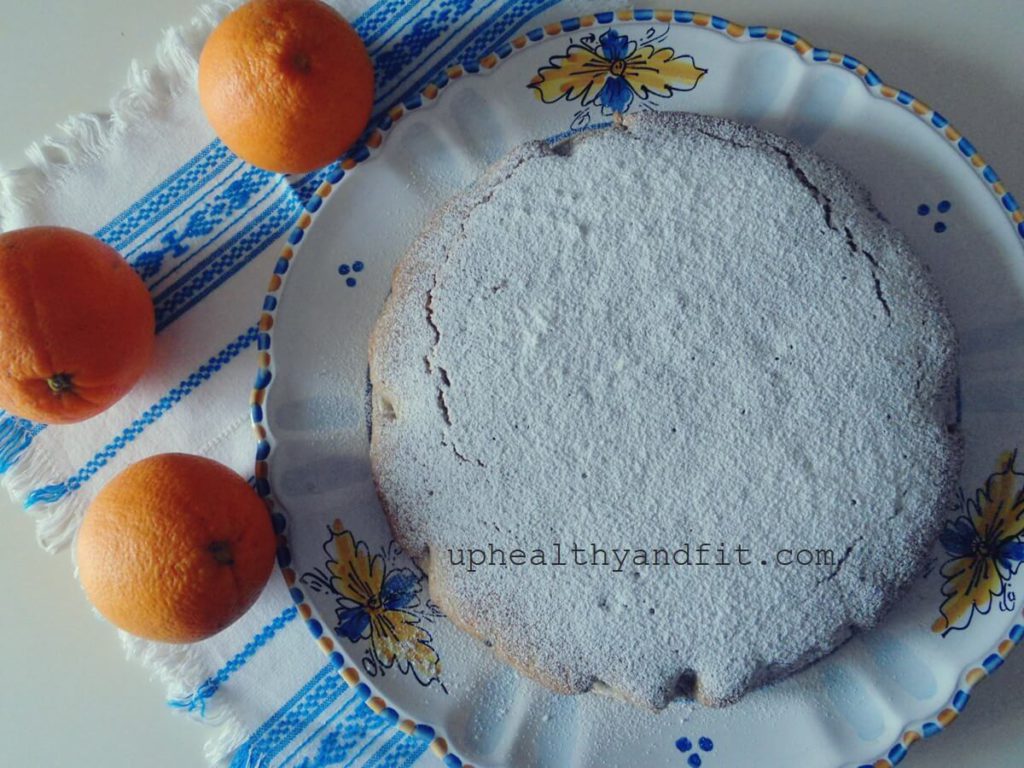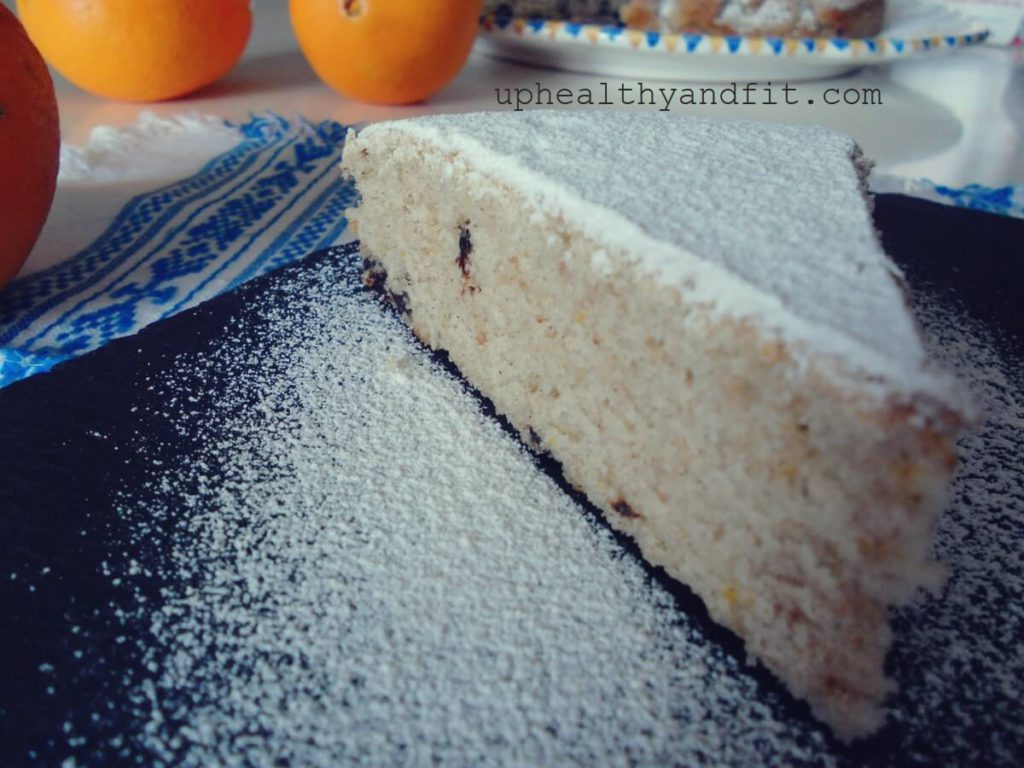 If you liked this recipe, please share it with your friends and leave me a comment. Thanks!